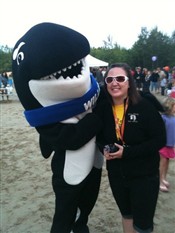 Activity Directors
Lilac Fun Makers have one goal in mind… to get you out of your seats and having fun, fun, FUN! Musical chairs, Cannon Ball Contests, Park-wide Scavenger Hunts and much more. The Fun Makers will have all activities & times posted at the Pool and Office bulletin boards. Activities are dependent on weather.
Willie the Whale
Our ambassador to a whale of a time. Watch out for this cuddly prankster who will show up randomly throughout the week for photos and hugs. Rumor has it that Willie loves to dance during our musical entertainment.
Christmas In July
(Last weekend of July, before August Long)
Decorate your site to win great prizes! Open to Seasonal and Overnight Guests. Decorate your bike for Santa & Willie's Christmas parade and receive a gift from Santa. Bring gifts to the office with names & site#. If bringing more than one gift per site please place them all in one large bag with the site number and last name. This will ensure that our elves don't misplace any presents while loading Santa's sleigh. Santa, Willie and the Fun Makers will hand out the gifts at the main stage and pose for pictures.
Golf Tournaments
18 hole Texas Scramble. Open to all Lilac Resort guests. Register your team at the Resort office to select your tee time. Golfers meet at the golf course 1/2 hour prior to their Tee Time. The rate for 18 holes of golf is $55 a person. Golf Cart rental is included. Fees to be paid at the Oakwood Club House. Tournament prizes awarded Sunday 1:00 pm at the commencement of D.J Brenton's Lilac Radio (pool stage).
Halloween In August
(Last weekend of August, before September Long)
A yearly family favourite! Get into the Halloween spirit and get the family together and have fun decorating your site or rental unit. Family with the best decorated seasonal & overnight site will win gift certificates for cool Lilac Resort swag. Winners will be announced on Sunday August 27 at the commencement of the pool side entertainment (pool stage 1 – 5). Don't forget to bring your costume for Saturday Trick or Treat and the Costume Contest. Check our Calendar of Events for up to the minute details.
Movie Night
Bring your camping chair and settle in for a family favorite! All movies are selected with families in mind, ranging from G to PG rated, with crisp Blu-ray picture and sound on a 110″ wide screen at the main stage. Movies will be posted on the information boards, shows start at dusk, weather permitting. Willie's Movie Snack Shack is open and selling cold drinks, movie sized candy bars and delicious hot buttered popcorn. Sponsored by M&M Convenience.
Events Calendar
Check out our events calendar!